Easter is definitely one of my favorite times of the year. Besides being a holiday that truly supports chocolate, it also offers great ideas for Easter decorations for the home. It's the promise of Spring. Easter colors are pastels and the animals are all babies. And that makes for wonderful home decor.
Easter Decorations for the Kitchen
I'm really a teapot fanatic. I love all kinds of teapots. Some tea, too, but it's the look of teapots that I love best. An Easter teapot or two makes a great addition to my home decor. Believe me, I am not afraid to use an Easter teapot as part of my centerpiece or as a vase filled with Spring flowers on my coffee table.
Other fun ideas for decorating around the kitchen can include Easter placemats on the table. Charming decorations make the table bright and Springtime ready. Don't we all need some Spring about now?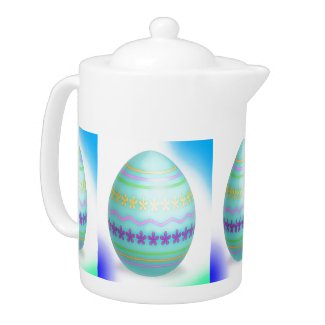 Easter Egg Blues
by
RedSparklesDesigns
Shop for another
teapot
.
Easter Decorations: Accent Pillows
Adding Easter decorations to your living room, den, even bedroom is easy when you place accent pillows on couches, chairs or your bed. Whether you like mahogoney furniture and dark colors, or you like sunny yellows and pure white furniture, a few Easter decorations can brighten up your look and add a fun accent for the holiday. Liven things up this year.
Celebrating with Easter Decorations
Easter is such a bright and cheerful holiday. That makes your home decorations bright and cheerful as well. You don't need to go crazy with lots of Easter decorations to still have the look. Alright, I will admit that I love to go crazy with holiday decor. But, I like to have well-placed accents. For Easter decorations, it can be a simple as placemats on the table and a few accent pillows.
Thinking simple accessories for your home can make a huge difference. Any time you work with small accents, you get a big bang for your buck. Your holiday decor is the same. With simple accents, you can change them easily from holiday to holiday. Or just enjoy those great Easter decorations to brighten your home.